US Adults Projected to Spend More Time Per Day with Digital Media
Digital advertising is becoming more powerful every year due to increased targeting capabilities. Researchers found people are spending more time with digital media, especially mobile. Below we've mapped out some digital marketing trends to show you where the market is heading.
Digital media includes desktops/laptops, smartphones, and devices such as tablets. US adults are spending more time per day with these devices and use multiple devices at a time. On average this year, US adults spent 12 hours per day consuming major media. If someone spent an hour watching TV and used a smartphone to surf the web during the same hour, they clocked an hour of usage for each medium.
Television continues to be heavily utilized by US adults, however, digital media is swiftly rising in popularity. In the graph below, we see time spent with digital is steadily increasing year-over-year. In contrast, TV is declining year-over-year, because Over-The-Top (OTT) services, like Netflix, DirecTV, and Hulu, are gradually displacing cable television.
Due to the documented shift of consumer attention to digital media, companies are moving traditional ad dollars to digital for better effectiveness, analysis, and financial results. An added bonus of this shift is the wealth of data that comes along with digital advertising, which help companies see the numerical reasoning behind their digital investments and the growth of their bottom lines.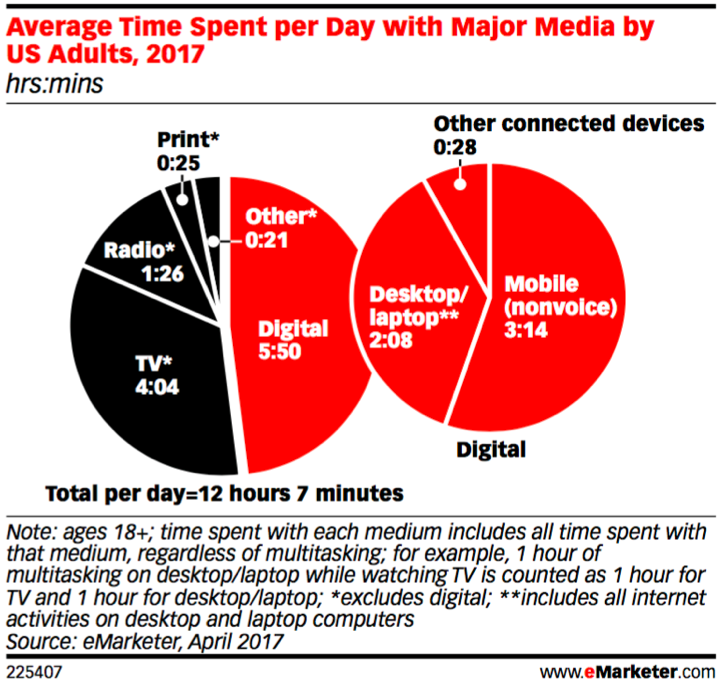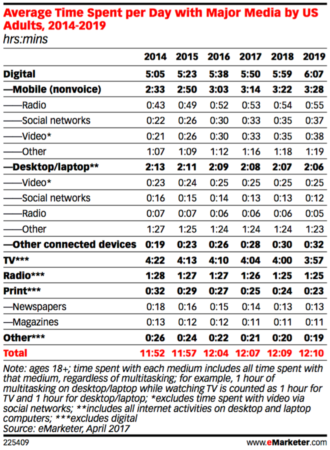 Digital analytics are highly transparent and adjustable; you can continuously monitor progress and make edits to spend level and strategy over the course of any campaign. With these features, a company will have a better performing campaign month-over-month and will always be able to track its digital footprint.
Quantifi Digital understands where consumers are spending most of their time throughout the day. We want to help you reach and interact with your target audience to improve brand awareness and drive conversions. If you want to learn more about our company or are interested in partnering with us, please contact us. Our digital strategy team would love to help you!