Don't Show Your Age; Call It Video, Not TV!
Cord-cutting is projected to skyrocket over the next five years. eMarketer estimates that by 2021, over 81 million U.S. consumers will have either cut their cords or never signed up for one in the first place, up 64 percent from 2016. Those changing habits matter. Just as startling, eMarketer expects the overall amount of time consumers spend watching digital video to rise 40 percent to nearly 90 minutes per day by 2019. Consider who is investing to compete with Comcast, Charter, Walt Disney, etc:
Recognize these? They are already investing heavily in delivering you overthe-top (OTT) video content. The process has many names, such as Connected TV, IPtv, etc. Simply put, it is a TV connected to the internet. It is almost impossible to buy a TV nowadays that isn't a smart TV.
So, what does it all mean? OTT advertising is the intersection of traditional TV advertising and digital marketing. Here are some advantages of OTT advertising:
Formats: CTV advertising is highly engaging, and it allows you to experiment with animated, static, call-to-action, and interactive videos to drive consumer engagement and increase the performance of your video campaigns.
High Completion Rates: CTV's large screen experience results in highly viewable ads because it imitates the cable TV experience.
Real-time Data: You can actually measure ad campaign effectiveness by tracking the number of views, conversions and direct responses, and so much more.
Targeting: CTV technology uses third-party data to complete users' profiles based on geolocation, zip code, interests, online behavior, device, language, etc. (I could keep going for days here). Precise audience segmentations allow you to target audiences with specific messages.
Engaged audiences: Smart TV users choose the CTV content they want to watch. They want high levels of control over the content and how they will consume it, which leads to increased satisfaction among viewers.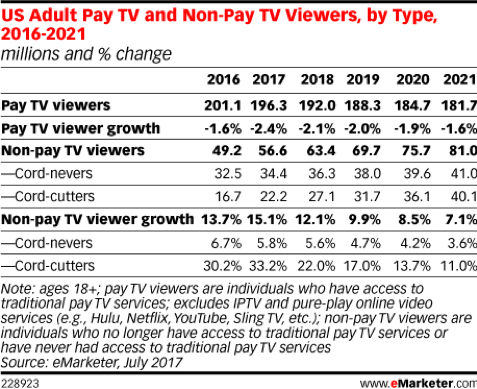 At Quantifi Digital, we expected the transition to take a couple more years, but the speed by which consumers adopt technology continues to accelerate exponentially.
Quit calling it TV. It's just video!!